Bachelor of Arts in Teaching English to Speakers of Other Languages, degree granted by Siam Technology College (approved to grant degrees by the Thai Ministry of Education)
The best way to begin your career as an English teacher overseas
Our unique modular program costs only 1,000 baht per credit and can be completed in as little as 3 years
All based in amazing Bangkok, Thailand at Siam Technology College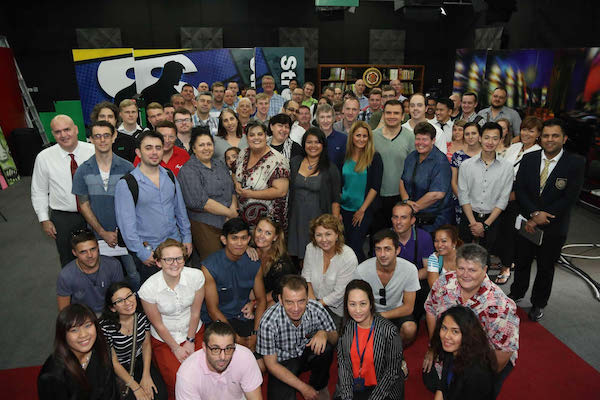 Join the hundreds of students who have been studying on their bachelor's degree in TESOL with Oregon Institute of International Education and Siam Technology College in Bangkok, Thailand.
This unique bachelor degree in teaching English to Speakers of Other Languages is one of the most affordable, full face-to-face degree programs you can find at less than $5,000.  And with over 500 students currently studying with us, one of the most popular.
And through our friends at http://www.affordabledegreeoverseas.com/work-and-study.php you can get a job teaching online to fully fund not only your studies but all your living expenses quite easily.
Because Siam Technology College is accredited by the Ministry of Education in Thailand, by international agreement through UNESCO, your degree will be recognized around the world. So you will be eligible to apply to graduate schools.
In the BA TESOL Program, you will earn an internationally recognized BA in TESOL + Diplomas in Language Acquisition, Phonology, Morphology and Syntax and TESOL Methodology
Study and live in the beautiful and majestic, Thailand
With a possible 1 year visa when you register for a full year of classes


- Non-refundable registration fee of 5,000 baht per year

- 5000 baht yearly administration fee on the date that you initially registered. We can accept you initially without a high school diploma, or the equivalent to it from any country, but within the first year you will need to provide the admin office with it. If you do not have any such diploma you can always get an online GED, among several other services. Again, you have one year to present it.

- 5000 baht yearly administration fee on the date that you initially registered

Pay only a very affordable fee


- Pricing: 1,150 baht per credit.

- 121 credits
admissions@affordabledegreeoverseas.com
START YOUR DEGREE NOW FLEXIBLE START DATES
COURSES AVAILABLE
Fall Semester: August to December
Teaching Reading
Information Technology in the Digital Age
Introduction to Linguistics
English II (APA)
English Grammar
Classroom Management
Teaching Listening and Speaking
English Language Teaching Methodology
Internship
Teaching Writing
FEES
The total cost of the program is 1,000 baht per credit, or 121,000 baht, over three years. There is also a non-refundable 5,000 baht registration fee.
Non-refundable registration fee of 5,000 baht
5000 baht yearly administration fee on the date that you initially registered
Will this degree be accepted internationally?
Yes, Siam Technology College, as a university accredited by the Thai Ministry of Education and Council of Higher Education is on the UNESCO list of International Universities and, therefore, accepted worldwide as a legitimate degree.
UNESCO PORTAL TO RECOGNIZED HIGHER EDUCATION INSTITUTIONS
http://www.unesco.vg/iau/online-university-directory/?wpbdp_view=search&kw=siam
Do I get any vacation time? As we mentioned above, we will have classes for 14 weeks per year. If you wish to complete the degree in 3-years you must attend 14 weeks of classes per year and the other coursework listed. But the dates of attendance are quite flexible. You may choose to study for more than three years this is up to you.
Siam Technology College is proud to have a true global community right here on our main campus. Our International Programs undergraduates currently represent 25 different nationalities.